Read on [est_time]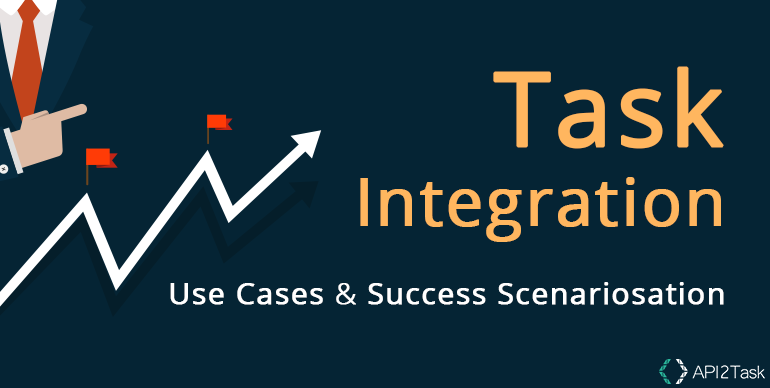 A task-based way of thinking has integrated into our busy lives. Little by little, tasks have grown into a part and parcel of a great deal of business software such as CMR platforms, project management systems (PMS), and various to-do lists. But even when using tools like these, we want things to happen, be done, and get resolved faster. Task integration is a good way out because it makes task creation on any of the platforms and sending those to any other of them as easy as pie.
In most cases, tasks involve a couple of smaller elements: issues themselves, users they are assigned to, watchers, comments, and attachments. Plus, they all may relate to a project or a component created on a task management system (TMS) like Jira or Asana. Access to all this information is valuable for many business solutions because it makes a key to becoming a win and profit. Let us see how different combinations work.
CRM + Task Management System Scenario
CRM platforms are genius in terms of the scope of work and information they help to manage. The variety of kinds of management they do is impressive: contacts, events, issues, and even files are all there. Sounds like perfect software to use for sales, partner and account management purposes. But what if there is a need for external help?
When a person or company listed in the CRM system inquiries tech support or requests a feature, development needs to know about it, so the manager in charge notifies them. The thing is, the tasks need to be documented, which takes entering the issue descriptions and copying the contact details from the CMR platform in at least one interface.
The task management that such systems offer differs from that of what developer teams have, so the latter use separate software to track issues and communicate them. That is why sales or partner managers have to switch to different software to create issues. Doing it once instead of twice or thrice saves time, so CRM systems develop partner task integrations to facilitate workflow and productivity.
If you want to enable your users to send tasks to the issue management platforms needed from the CRM interface automatically, task integration is inevitable. Plus, you could use the data connection to create calendar events representing the deadlines, send and receive notifications on task updates, and generate reports.
PMS + TMS Scenario
Project management has to do with planning, setting objectives, organizing, and controlling. On each of the steps, there are tasks to create and assign to somebody.
If you, as a PMS vendor, put in some effort to provide your users with the ability to add and link issues right from the software you provide, they will love you. Simply because you value their time and let them invest concentration in the work actually. Task integration is also applicable to update and new task reporting, and email or SMS deadline reminding.
To-Do Lists + TMS Scenario
It's all about convenience. Busy people like to remember everything and get things done either by themselves or with their team. To-Do lists are aimed to help them do this efficiently by synchronizing the tasks they create across all the devices they use.
But you can offer more! Task integration is a chance to send issues across different project or task management systems that the customer uses in their business.
Finishing Touch
Apart from the use cases mentioned above, task integration may be a sound functionality investment for other tools and services like roadmapping software and iPaaS solutions. If you can think of any other system we missed, please do let us know! 🙂
In case you'd be interested in connecting your system to any or all of the task management platforms that we support, or would like to hear from us on what we do, hit us up by clicking the blue bubble on the right or sending us a message in live chat you can find at the very top of the page.