Read on [est_time]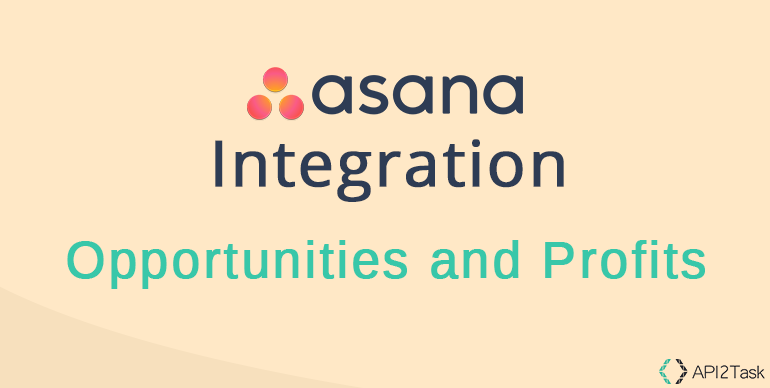 It is well-known that coordination and strong organization are key points in smooth and productive teamwork. As businesses scale, teams expand, and the number of tasks and projects grows, it becomes evident that there is a need for an effective task management, which naturally requires special software.
Collaborative software has become an integral part of practically every medium and large businesses because it has already proved to be an effective and easy way to facilitate and organize the workflow. The IT industry offers a variety of task management systems, and Asana is one of the solutions for this purpose.
Profits of Integration with Task Management Software
As we have already mentioned, virtually all big companies use various task management software for work. Linking all the tools they use for communication on all levels makes interplay easier and saves the time.
For B2B services, integration with various task management software means fitting the needs of a wide segment of existing and potential clients that use different task software. It leads to expanding the functionality of your system. Integration with leading task management systems can also make your service much more convenient and universal, which gives an opportunity to cover wider markets and gain more customers.
Profits of Integration with Asana
Asana is one of the most widely used task management systems. It is constantly developing and gaining new customers by its convenience and simplicity. It offers virtually all necessary functions for different types of tasks and projects. According to the approximate calculations, Asana has 100,000 active instances in total, 20,000 of which are actively used.
Asana integration gives you a variety of benefits, including the following ones:
access to various task data such as issues, projects and users 

ability to cover a wider segment of customers

easy data retrieval and editing as well as update synchronization

ability to change Asana task data from other applications connected to your system and vice versa
For better results, consider integration with other major platforms, such as Jira, Basecamp, Trello, Wrike.  
Integration Pitfalls and a Way to Avoid Them
As you can assume, integration is not an easy process, especially when it comes to integration with many platforms in short terms. Every software has its unique structure and logic, which requires lots of time, effort and qualification to learn. Apart from those challenges, integration development that works smoothly, is also expensive as it requires service of a decent developing company or a professional web developer, either of which will cost you a couple of thousands of dollars.
The good news is that there is an optimal solution for avoiding all those difficulties represented by API2Task. This innovative service has done almost everything for you, the only thing left to do is to integrate with this service!
How API2Task works
The API2Task team developed a unified API that allows to interact with the majority of popular management platforms, including Asana. It means that one simple integration with API2Task provides you with access to multiple task management platforms at a time. For more details about this one-to-many API, schedule a call with our expert, who will provide you with all possible use cases, technical details and answer any questions.