How can I find my Asana Access API Parameters?
Here are the access parameters you need to connect Asana with API2Task:
type – Asana
token - Asana personal access token
(example: 333538675f251d1a3894834fcaaeb337)
workspace id – your Asana workspace id you wish to working with
(example: 102545609240695)
TO REVIEW ASANA CONNECT APPLICATIONS YOU'VE AUTHORIZED, DO THE FOLLOWING:
Click your profile photo from the top bar and select

My Profile Settings

Navigate to the

Apps

tab

Review the Authorized section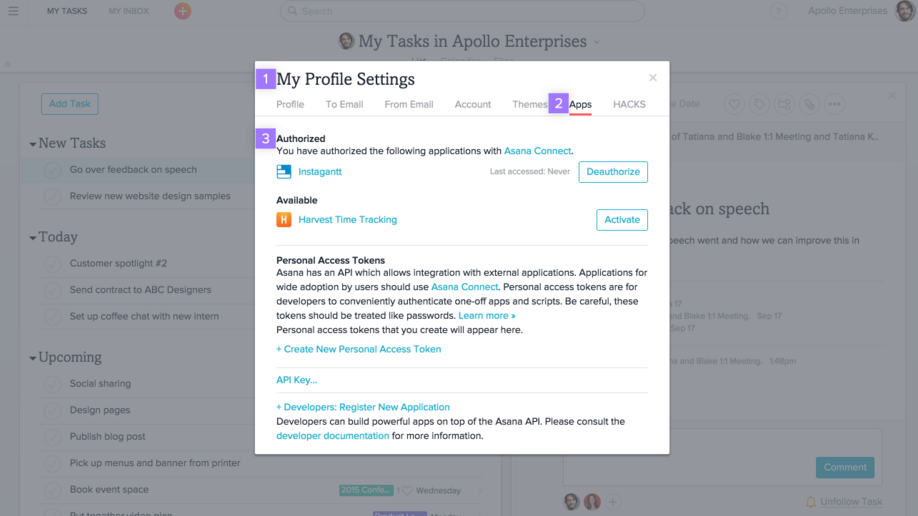 Personal Access Tokens
Personal access tokens provide individuals with a low friction means to access the Asana API when writing scripts, working with command line utilities, or prototyping applications. In most cases you should not provide personal access tokens to applications you do not know or fully trust the creator of.
Applications that support accessing Asana on behalf of many users should make use of Asana Connect.
To create a personal access token for yourself:
Click your profile photo from the top bar and select My Profile Settings

Navigate to the Apps tab

Select Personal Access Token

Add a Description

Click the Create button
You are required to enter a description for each access token in order to easily remember its individual purpose. You are also encouraged to regularly review and deauthorize access tokens you no longer want or need.
To get your workspace id, go to https://app.asana.com/api/1.0/workspaces (ensure you are logged into Asana when viewing this page). This will display a JSON object of your workspace id and name. Copy the workspace id corresponding to the relevant workspace name.
Posted in: Getting Started
(Visited 3,898 times, 1 visits today)